Chairman's Message
It's so refreshing to be able to look back on a wonderful summer of wildlife outings in our local group which were all incredibly interesting and well attended. But there are even better things to come! Some of you will have already noticed our much greater presence on social media, especially our FaceBook page (
Aberdeen & Aberdeenshire Scottish Wildlife Trust Local Group
) where you can find daily updates on interesting news and activities. The group committee has also been thinking hard about offering a greater diversity of opportunities for you to get involved in wildlife-friendly projects whilst enabling many more of our local membership to access our events. You'll find more about these in this newsletter and we would welcome any comments you have on our ambitious plans (email:
committee@swtaberdeen.org.uk
). This printed edition is meant to reach all our members in NE Scotland, not just the 46% that have opted to receive our emailed newsletter, but please consider amending your Trust membership profile to opt in, if you haven't already done so, in order to get all our wildlife news and notice of planned events.
Roger Owen
Red Moss of Netherley Reserve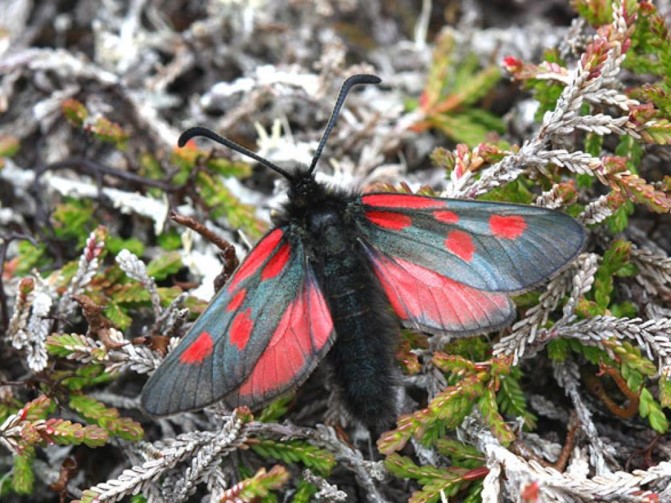 In March, we were delighted to welcome a group of volunteers from the Rural Skills Club, a student society at Scotland's Rural College (SRUC), to our Red Moss of Netherley reserve. Despite some very challenging weather (= heavy rain) the students made substantial inroads into clearing regenerating Birch from the bog. In a natural state, Birch would struggle to gain a foothold (or should that be roothold?) on the waterlogged peat surface. However, following former peat extraction at the site, it is important for us now to keep the Birch in check. Alongside other management tasks, this helps us work towards restoration of this highly threatened peatland habitat. A BIG THANK YOU to Charlotte, Ethan, Kenneth, Mike and Olivia for an amazing effort.
Nick Littlewood, Co-convenor, Red Moss of Netherley Reserve
Local Group Engagement Strategy
The impacts of the biodiversity and climate change crises are all around us - our wildlife is struggling. Equally, we know that, for many, nature-connectedness brings great solace, particularly in a world fraught with instability and challenge. In short, nature needs us and we need nature.
With this in mind, we were presented recently, as a Committee, with a request to help someone who was interested in wildlife and conservation activities, but faced challenges in participating. This sparked an earnest discussion during one of our evening meetings. What to do? How could we help more of our membership take action for wildlife and help support an increase in wellbeing in the process? And, thus, was born the seeds of an engagement strategy for Scottish Wildlife Trust Aberdeen and Aberdeenshire Local Members.
With the realisation that there were many steps along the way, we started with drafting Terms of Reference for our group. The main aim suggested itself, "…to bring together people around a shared interest in Scotland's biodiversity." The objectives took a little more deliberation and we worked to capture concisely what we will strive to do as a Committee to bring people and wildlife together. (For full Terms of Reference, see our website).
The next step was to review our existing activities. We looked for where we could make changes to increase the diversity of members accessing nature and getting involved in activities to support the amazing biodiversity on our doorstep. This meant we needed to hear from you. This was quite a challenge, as the main opportunity for us to communicate with the local membership is through online channels, such as email and social media. We know that many of our members are not signed up to receive email updates, and this is something we are working on – reaching out through other channels. Nonetheless, we were very pleased with the response to the online survey sent out through email and on Facebook. Some of the results of this survey are summarised by Liz in her article in this newsletter.
As a result of your feedback, we are trialling a radically different approach to our talks and events programme this year, with a conscious effort to make accessing and supporting wildlife more readily available to all our members. Once again, we need your help to get this right – feedback on how to make activities more inclusive will be sought as we make changes over the next year or so. Let us know if you have been encouraged to get involved for the first time or, if you feel we are not addressing particular barriers, please let us know that, too. We will be offering opportunities along the way to provide this information, so please watch out.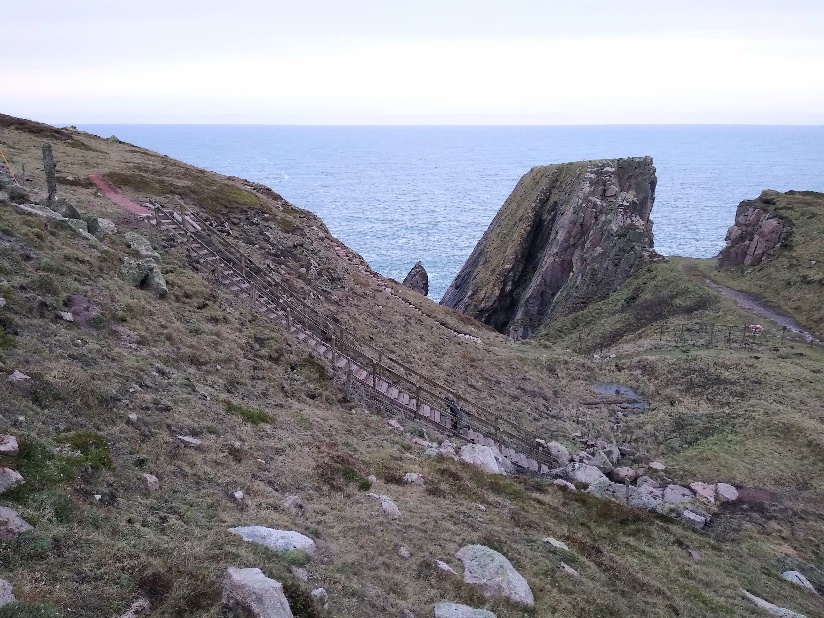 This is just the beginning! We have really aspirational plans to grow our community, providing lots of opportunities for volunteering (which you told us you were really keen to see). We hope to pass on training and skills through the events programme, which will shift to a year-round basis, rather than just focusing on summer delivery. We want to expand our focus to encompass doing and supporting, as well as learning and appreciating.
We are continuing to develop a longer-term engagement strategy in the background, working to connect with other local members groups and supporting the wider aims of the Trust. Connecting is key; connecting to the natural environment, connecting to each other and joining together to fight for nature. Of course, this will take time, as all Committee members are volunteers dealing with the demands of modern lives, as we all do. On that note, input from members, no matter how small, to help take our engagement work forward would be very welcome. Please get in touch if you feel you would like to help. And watch this space!
Rose Toney
FLORA AT WORK
I have written a couple of articles about wildlife at work previously. This is the latest instalment of a very occasional series. I currently work for an engineering company at Altens. Like most industrial estates our premises are nondescript, lots of aluminium cladding, concrete and tarmac. With grey being the predominant colour and little greenery around.
My bird list here only has 40 species on it, plus I have seen a couple of mammals and a few butterflies. The plant life isn't very diverse either. 'Weeds' able to survive in a built environment, and the chemicals and machinery of facilities management operatives predominate.
The most interesting plants at work were a few spikes of Great Mullein Verbascum thapsus, which appear each year around the edge of the car park, and Northern Marsh Orchids Dactylorhiza purpurella. Our premises like most others in Altens have a few orchids appearing in grass verges each year, a floristic survivor from the previous habitat before the area was developed.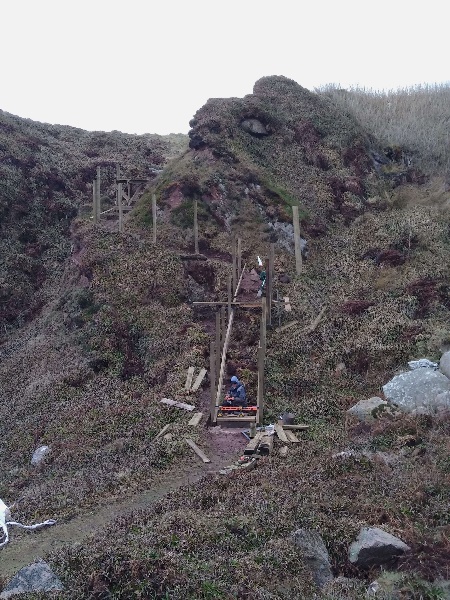 Then in 2020 I noticed a groundsel growing in one corner of the car park. It wasn't the common one and once I touched it my suspicions were confirmed. It was Sticky Groundsel, a plant I had last seen about 25 years previously in Kent. There are only a handful of records for this species from NE Scotland, mostly around Huntly. By the end of the season five plants had appeared in the car park, and it reappeared in 2021.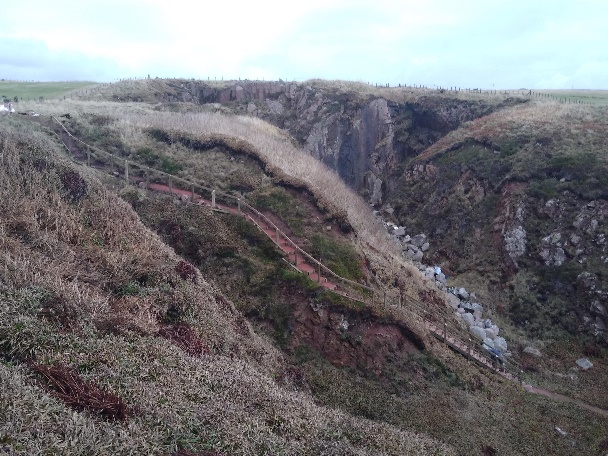 In June 2021 I spotted a small willowherb with rounded leaves growing out of slabs by the bin shelter. My first thought was New Zealand Willowherb Epilobium brunnescens. I am familiar with this species from dripping wet hillsides in the Highlands and The Faroes. So to find it growing between paving slabs in full sunshine was surprising.

In July 2021 I noticed a ragwort growing out of the lock block paving. It wasn't the common or garden species. I took some photos and looked at a couple of floras I turn to first but couldn't identify it. I came back to it a few weeks later and took more photos and a leaf for ID purposes. After consulting Stace's New Flora I was able to identify the plant as Narrow-leaved Ragwort Senecio inaequidens. This is a native of South Africa and originally a wool alien, arriving as seeds in fleeces. There are only a couple of previous records of this species in NE Scotland. It has started growing again this year.
Whether the appearance of these unusual species is related to the downturn in ground maintenance due to the Covid lockdowns must remain as conjecture. But however unprepossessing the location you never know what you can find if you keep your eyes open.
Gavin J Forrest
Become a 1st Aider to Help the Local Trust Group.
You could really help the local group by becoming a trained 1st aider! The Trust offers free training courses for members happy to be a 1st aider on one or more of our group wildlife events. This really helps us as having a 1st Aider present is mandatory so the more trained members we have the better! If you are interested please email:
committee@swtaberdeen.org.uk
We asked, you said…
Thank you to all members who took part in the local members' survey. We received some really useful suggestions, comments and ideas about our winter talk series and programme of summer activities. Rose Toney collated the results, and these were discussed during a special committee meeting that turned into a high-energy brainstorming session. Here are some stats…
Demographics
The local group does not have access to members' data (age, gender, address etc.) so part of our survey was to understand who and where our members are. Just over half (51%) of respondents fall in the 30-65 age bracket, with 45% in the over-65 age group. Our group covers a large area incorporating towns, villages and rural areas. Most respondents (46%) live in the City while members in Donside and the Stonehaven represent 24% and 20%, respectively. A special mention to the 5% who live as far north as Peterhead and Fraserburgh.
Winter talks
A large proportion of respondents have never or hardly ever attended one of our winter talks. There are many reasons for this, but a lot of the feedback centred on travel, with long distances and winter driving cited as barriers to participation. Other reasons included health issues such as limited mobility and anxiety. Worryingly, one of the reasons which scored high was 'Lack of information or late notice'. This is something we need to investigate further. Most of our communication is by email and we also post events on the local group website (swtaberdeen.org.uk) and social media. We would encourage our members in the northeast to sign up for local group emails, if you haven't already, and to follow us on Facebook if you are active on this platform.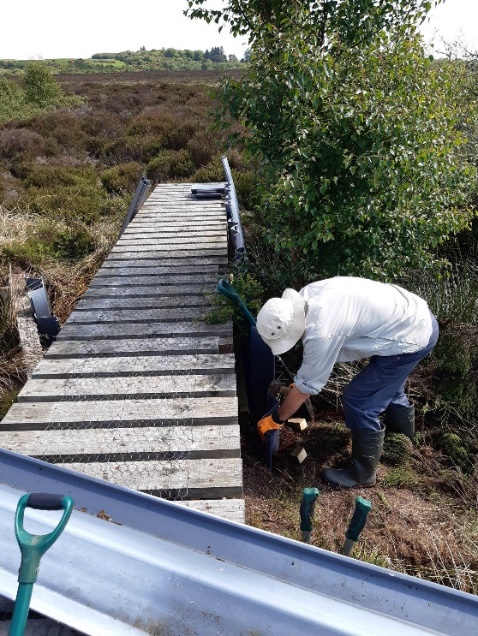 The committee is in the process of shaping the next winter series and we need to understand members' preferences for venue and format. The responses around venue varied quite a bit, see graph below. It is clear from the demographic results and some of the feedback comments that many of our members are unable to travel to the Zoology Building in Aberdeen.
As for format, over half of respondents preferred a 'hybrid' approach to winter talks – face-to-face with the option to join online. This option was discussed in detail at the last committee meeting. Feedback from individuals who have attended such hybrid events was overwhelmingly consistent. Without a high spec sound system, it is difficult to deliver a talk that can be heard loudly and clearly by the online audience. It is also challenging to make both the in-person and online participants feel included – one group is always at a disadvantage.
The committee talked about ways of accommodating more individuals including those who live further away and those whose health issues limit participation. We have come up with a plan that we will trial over the next 12 months. Our aim is to run more talks (probably 8), alternating format and venue. Some would be virtual, some face-to-face; some will be held in the City, some in the Shire. Clearly this requires more organisation and logistics on the part of the committee, but we are exploring various options and no doubt will learn from the first few events. We hope this is a positive change and will encourage more people to connect with other local group members.
Summer events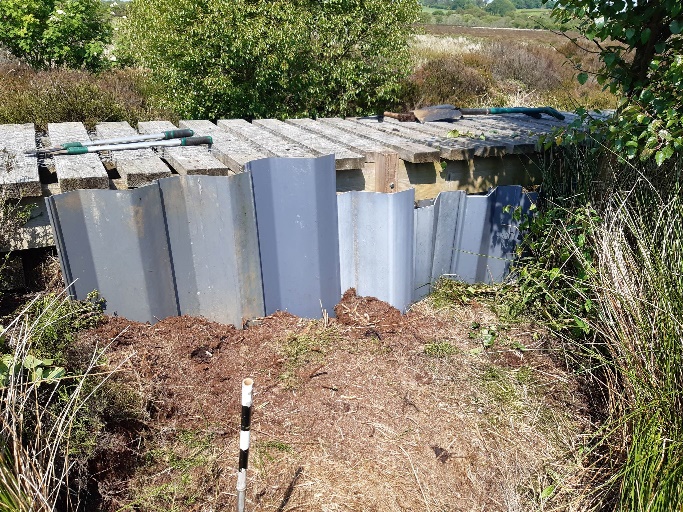 The survey revealed similar results for the summer events although with a clear preference for guided face-to-face events. Topics of interest varied quite a bit, see graph below, but unsurprisingly tours of local nature reserves and conservation activities topped the list.
The committee is working through ideas for increasing member participation across the City and Shire for summer events too, so watch this space! In the meantime, keep an eye on our Facebook page where we regularly signpost events across the northeast organised by our friends in other wildlife groups.
If you have any comments, suggestions or feedback then there is still time to fill in the survey, we will keep it open a little longer (
scottishwildlifetrust.org.uk/aberdeenshire-survey
). The next 12 months will be very exciting and we are looking forward to deliver a varied programme of talks and activities to our local group members across the City and Shire.
Liz Chellingsworth (committee member)
Activities Programme 2022 - 2023
Oct 20th 2022 More Than a Golf Course - Richard Mullen, Sportsman's Club, Aberdeen
Nov 17th 2022 (online) Recolonisation of Cranes in Scotland - Amanda Biggins, RSPB
Jan 19th 2023 Inverurie TBC
Feb 16th 2023 (online) Beavers in the Scottish landscape - Roo Campbell, NatureScot and Daniele Muir, Perthshire Wildlife
April 20th 2023 Banchory TBC
May 18th 2023 (online) Young Leaders: Leading the Way - Scottish Wildlife Trust Young Leaders.
July 20th 2023 - (online) Species on the Edge and the work of Butterfly Conservation - David Hill, Butterfly Conservation
Aug 17th 2023 - Working together: volunteering in North East Scotland (Community groups and NGOs open day) Zoology Building, Aberdeen
Contacts for Members
Local SWT website:
www.swtaberdeen.org.uk
National SWT website:
http://scottishwildlifetrust.org.uk/
The Scottish Wildlife Trust is a company limited by guarantee, registered in Scotland (registered number SC040247), having its registered office at Harbourside House, 110 Commercial Street, Edinburgh EH6 6NF. It is also a Scottish registered charity (charity number SC005792).