Chairman's Message - Roger Owen
Although it has been a difficult year for us to organise wildlife-related activities for our members, we have managed to keep up a really good programme despite Covid-19. Our outside expeditions have been very interesting and well attended. To enable these we have had to do a fair bit of work to assess additional risks and keep everyone safe, but its been worth it.
Our talks in October (a rare Plant Register for Kincardineshire) and November (the Development of the Where to Find Birds App) were fascinating and there's lots more to come! For the moment though these talks will have to continue on Zoom and booking will be through EventBrite as Aberdeen University are still wary of using their facilities for outside groups.
There are a number of other interesting issues we have become involved with in the last few months. We have written a position statement (read it in this newsletter) on the proposal to build an industrial estate (the Aberdeen Energy Transition Zone) over part of St Fittick's Park, which may well destroy an award-winning restored wetland and a much treasured greenspace in the process (see the article on the AETZ).
The North East has some excellent potential beaver habitat (see the beaver article) and, since the Scottish Government are now going to consider translocations from existing populations, we want to have a debate with landowners and other parties on how beaver would be managed here. We are making moves to organise that debate now.
I also want to thank the SWT and other volunteers that put so much effort into establishing a wild flower area at Tullich Cemetery which was funded by the Esther Woodward legacy. It has been so refreshing to see the enthusiasm for that project and I think we would all like to see more like that. I hope you all enjoy the varied articles in this newsletter and I wish you all a happy and healthy 2022 full of fantastic wildlife experiences!
Roger Owen
Post-COP Musings
It is two weeks since the end of COP26 and I am still processing my thoughts and feelings about the meeting. Having taken an interest in the previous 25 conferences, the rational brain held no great expectations that the 26th would be any different, but the hopeful brain tried to keep optimism alive. Since the Paris meeting we have emitted a further 1/4 trillion tons of CO2 despite agreements to begin reducing emissions.
The outcome of COP26 still falls short of keeping climate change within 1.5 degrees according to most scientists, but some small advances were made; with an agreement between USA and China on joint work to reduce methane emissions, and wider agreement on phasing out coal. Far too much time and effort was spent in arguing over wording and not enough effort has been put into taking action. It scared me to find out that there were more delegates at the conference from the fossil fuel lobby than from any nation state.
It was of course naive of me to hope that the climate and ecological crises, which have been created by our current political and economic systems, can be solved by the same systems and mindsets; what is needed is complete system change and new ways of living. Making pledges to reduce carbon emissions are ineffective unless there is also a change in how much energy we use. Most importantly, we need to question our global consumer culture, methods of mass production, destruction of nature and the shipment of products around the globe.
The ultimate measure of any progress in tackling climate change is the concentration of atmospheric CO2; you can keep an eye on this at the
Mauna Loa
website. At present the curve shows no sign of flattening as, despite all the promises and rhetoric, we keep on emitting increasing amounts of CO2.
I think the most positive outcome of the COP was the amount of media attention it created, and although this has reduced in the intervening two weeks, I have had conversations about climate and ecological issues with people who never previously engaged with the topic; this can only be a good thing.
To quote Joan Baez "Action is the antidote to despair"; so what actions can we take as SWT members?
It is estimated that nature-based solutions can remove around 1/3 of anthropogenic CO2 emissions, so as a Nature-engaged sector of society we are well equipped to help. Soils and vegetation can be a good carbon store and the more so in natural and biodiverse habitats. Peatlands can store vast quantities of carbon for millennia but accumulate it very slowly, whereas trees can remove carbon at a faster rate, but a lot of this carbon would return to the air when the trees die or if they were burnt. Marine coastal habitats like seagrass beds, saltmarshes, mangrove swamps and oyster beds are perhaps the best habitats for capturing carbon. There is huge potential to manage grass pasture and arable fields for carbon sequestration as well as for food crops and there are many farmers who are pioneering these regenerative farming methods.
We can support these nature-based solutions in many ways: for example we can get involved in ecological restoration projects by volunteering to create or restore habitats, plant trees, wild flowers or restore wetlands, we can donate to charities and NGOs who are actively restoring habitats such as WWF, Trees for Life or Borders Forest Trust. If we are gardeners, we can stop using peat and we can make our own compost to return carbon to the soil. Our choices of diet are important too, and we are all being encouraged to eat less meat and dairy; when and if we do choose meat, it is good to buy local and support local farmers and producers. Good animal husbandry has a place in regenerative and ecological approaches to farming and farmers will be part of the solution.
In order to understand the impact of our lifestyles on the climate it is useful to measure our individual Carbon Footprints. There are several apps to do this for you from
WWF
and
PawPrint
. These apps give you an idea of the impact of different sectors, such as food, travel and housing and enable you to target the areas where you can make the biggest carbon savings.
Individual action and choices can only take us so far, so we all have to become activists and demand change from national and local government; we can campaign for safer active-travel routes and better public transport, we can ask for more community allotments and ask for our parks and green spaces to be better managed for wildlife.
Douglas Gooday
St Fittick's Park – A nature reserve or an Industrial Energy Transition Zone? Part 2
We began our last article with the above question and ended it by saying what a tragedy it would be if the answer turned out to be the second option.
We have managed to find many different allies who have supported us in our fight to ensure that doesn't happen. Not least the Scottish Wildlife Trust itself which made its support public by issuing a Position Statement on the inclusion of St Fittick's Park and Doonies Rare breeds as potential sites for Aberdeen's Energy Transition Zone "adjacent" to the South Harbour at the end of August 2021. The environmental and social arguments Friends of St Fittick's Park have been making, were also used by 199 individual and 4 statutory consultees in their submissions to the Proposed Aberdeen Local Development Plan, NatureScot and SEPA in particular. Scottish Government reporters are about to start scrutinising and reviewing the Plan , aiming to finish on 7th August 2022 and the Park's rezoning may be reversed as a result. It was more than disappointing that Aberdeen City Council acknowledged that these arguments were valid and well made, but ignored them all in favour of economic gains and climate mitigation benefits that are still uncertain. Activities are still expressed in vague generalities: offshore renewables, manufacturing, assembly, hydrogen production and any data to support the number of much needed jobs provided by all this is not in the public domain, in spite of repeated requests. The Trust's statement added a new concern – the maintenance of coastal habitat continuity, and urged Aberdeen City Council to take its environmental responsibilities seriously, but its arguments too were swept away, this time by Marie Boulton with the usual vague generalities in an Evening Express article at the beginning of September.
We are also grateful for the efforts of MSP Maggie Chapman, supported by fellow MSPs Mercedes Villalba and Audrey Nicoll to bring the issue to Holyrood in a debate "A Just Transition for Torry". They set out all the environmental and social arguments why the Park should not be an ETZ site, which were sympathetically received by Michael Matheson, Minister for a Just Transition, who said "I've been given a lot to think about" and accepted Maggie's invitation to visit the Park. There are other indications that the Scottish Government's previous uncritical support of all aspects of the Energy Transition Zone is weakening. The failure of the ETZ to be included as a National Project in the Draft National Planning Framework 4 document, whose final version will be at the top of Scotland's planning hierarchy, makes the task of objecting to the planning application, which is due to be made in late summer 2022 by consultants Ironside Farrar, no more difficult than it is already. The Trust is being asked, with Statutory Consultees, local organisations and individuals to contribute to the current development of the ETZ Masterplan that must accompany any planning application.
The possibility of the Park's future as a nature reserve surfaces at about the same time as awareness of the relatively new development of land ownership by urban communities. The two have now come together for us in what we see as the only way to protect the Park from any unwanted development: an asset transfer or forced community buy out for sustainable development to create an urban nature reserve for community benefit. To do that, we needed a plan to present to the community as a starting point for discussion, which was done at the Torry People's Assembly on 25th September 2021.
We outlined the plan to David Elston when he visited the Park with us in mid-November and were more than delighted that he was so enthusiastic about it and that he agreed with us that ownership is much the best way to protect the Park in perpetuity, using our plan to improve the Park for the benefit of the environment and the Torry community. Even more so that David thought the Aberdeen and Aberdeenshire branch of the Trust should in principle be prepared to endorse the plan, and advise us. A partnership like this is invaluable for any application for an asset transfer or buy out.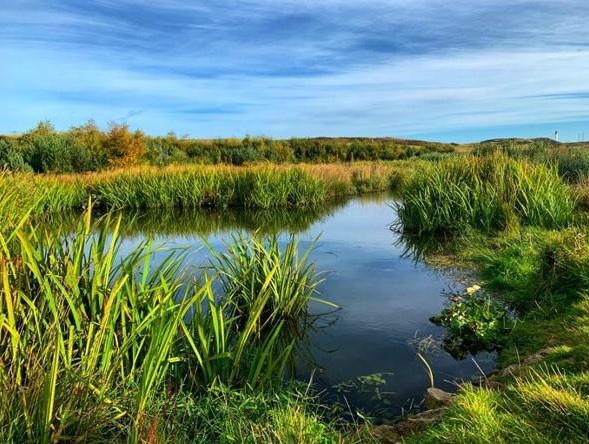 Despite the concerningly uncertain future of St Fittick's Park, the plethora of biodiversity that uses the site continue to live their lives without any knowledge of the possible impending catastrophe.
We are very pleased to report that this year, the now nationally endangered common snipe has bred on site for the first time. Given the delicate and cryptic nature of this species, they were left to their own devices during the breeding season, but had three eggs. Whether the chicks fledged or not is unknown, but the fact they attempted to breed at all is an indication of the high quality of the habitat. They add to the increasing number of birds of conservation concern (13 nationally endangered, 11 nationally threatened) that use this site to breed, making the threat to the site even more alarming.
We have continued to monitor the importance of this site as a vital pitstop for migrating passerines, with indications based on ringing data suggesting somewhere between 100,000 and 250,000 individual birds use this site on passage. This includes everything from curlew and oystercatcher to teal, widgeon all the way to yellow browed warblers (we usually see at least 20 a season, if not more) also both short and long-eared owls. This year alone has seen over 100 species of bird pass through the site.
You may be surprised to know that only migration hotspots for waders, ducks and other waterbirds of exceptional quality have any legal protection. This is rather disheartening given the alarmingly poor quality of British wildlife. The UK was recently put at the bottom 5% of nations globally in terms of level of habitat degradation. Given the scarcity of such habitat, it is distressing that this still relatively young but positively thriving freshwater reedbed and woodland is under threat. Globally, wetlands are disappearing three times as fast as forest, and can be a valuable source of carbon sequestration. Now, more than ever, we need to protect vital stopover points for our terrestrial migrants, not just waterbirds.
In the case of St Fittick's, the Council's own engineering reports looking into local road structure comment that the park has sufficient biodiversity for at least designation as a Local Nature Reserve if not higher, but critically it requires the Council's permission to be given such designation.
After the disaster at the SSSI on Trump's Menie Estate (which has now lost its SSSI designation due to ecological degradation), ecological protections have lost much of their teeth in protecting land. St Fittick's could be a case study to create an entirely new protected status, either for a special area of community interest (SSCI) or as a site of significant terrestrial migration (SSTM). We cannot allow this vital community and biodiversity hub to be demolished in any capacity, and it would be a truly positive outcome to bring new protections to some of our most sensitive species from the crisis at this site. Something to think on, perhaps.
David Hunter and Susan Smith (Friends of St Fittick's Park)
Position Statement regarding the proposed siting of an Aberdeen Energy Transition Zone (AETZ)
Summary
The Scottish Wildlife Trust (the Trust) has reservations about the majority of areas currently being considered for the location of an Aberdeen Energy Transition Zone (AETZ). The development of these areas risks ecological disruption of the coastal strip and loss of contact between the inhabitants of Torry and their local wildlife. The Trust wishes to be consulted during the forthcoming development of a Masterplan.
Rationale
The challenges posed by the need to prevent climate change and prevent biodiversity loss are inextricably intertwined. It is incumbent then on Aberdeen City Council (ACC) to avoid contributing to biodiversity loss whilst promoting economic activity (the AETZ) that will contribute to the prevention of climate change.
The AETZ Feasibility Report 2020 identifies four Category 1 sites, six Category 2 sites, three Category 3 sites and four Category 4 sites, many of which have wildlife, landscape and social value. It is disturbing to see that, whilst describing their designations in the Local Plan, the Report fails to consider the wildlife, landscape and social reasons as to why they have been so designated. The Trust believes that all of the Category 1 sites, five of the six Category 2 sites, and all of the Category 4 sites are either currently, or have future potential to, contribute to the ecological continuity of the coastal strip that forms the eastern boundary of Aberdeen City. Conversely, the Category 3 sites have already been developed and use of these brownfield sites for the AETZ poses little risk for the ecological continuity of the coastal strip.
The Trust believes that all communities should have easy access to wildlife-rich areas. For the people of Torry, the only such area available is St Fittick's Park, developed for precisely this reason and topping the Herald Society Awards for Environmental Initiative of the Year in 2015. Whilst the Trust would find it difficult to defend the loss of a small portion of the Park close to the harbour, the development of any more of the Park would undermine the opportunity for contact between the people of Torry and their local wildlife including water birds, butterflies and wild flowers such as orchids that they will not otherwise encounter in their daily lives.
The Trust believes that any landscaping of developments in the coastal strip should reflect the importance for wildlife of habitat continuity. Gone should be the ecologically disruptive ways of the past, in which town-centre style parkland was considered the norm for such landscaping schemes. Instead, ACC should boldly lead the way towards landscaping schemes of the future, in which locally sourced native species are used in a manner which allows native species to coexist in amongst economic activity. Particular attention should be paid to managing and restoring coastal grassland and heathland. Some judicious creation of coastal woodland might also be considered, using species such as willows, blackthorn and aspen that occur sparsely on the cliffs in or slightly south of Aberdeen City.
Future decisions regarding the siting of, and landscaping within, the AETZ will have a major impact on both the ecological continuity of the coastal strip and the ability of residents of Torry to have easy access to wildlife-rich greenspace. Consequently, the Trust wishes to be consulted during the forthcoming development of a Masterplan.
David Elston (on behalf of Aberdeen & Aberdeenshire Group of the Scottish Wildlife Trust)
An Evening at Glen Tanar
I had a wonderful evening at Glen Tanar yesterday. We arrived at the car park at 7.30 pm, just as the rain was stopping, and we were greeted by the sound of a cuckoo calling in the distance. Colin met us a few minutes later and showed us to the hide, an old wooden cottage, a couple of hundred yards away.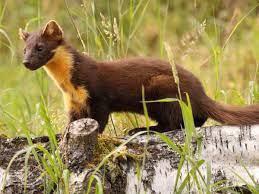 While we settled in, Colin baited the logs and the grass in front of the hide with a tempting selection of peanuts, peanut butter and jam. After only a few minutes, a female Pine Marten appeared from under the hide itself and approached the logs to start her meal. She was very alert, stopping whenever she saw or heard something, but she relaxed and continued eating a couple of seconds later. When she'd finished, she approached the hide and shortly afterwards we heard movements in the ceiling above us. Colin recognised the sound of mother and kits; the young should be ready to leave their den in a couple of weeks, when they will be exploring the garden for the first time.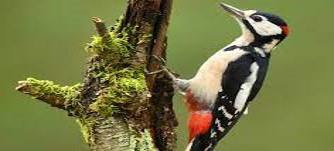 When the coast was clear, a Great Spotted Woodpecker flew down to the logs and feasted on the peanuts for a couple of minutes.
The air was very still, and not a leaf moved as we waited to see what happened next. Then there was movement at the edge of the clearing as another Pine Marten stood on its hind legs to survey the scene. It then disappeared but re-emerged in front of the hide and approached the baited logs. This was a male which was quite distinctive as he had lost his tail some time ago. He seemed unhindered on the ground but would have lost some agility without a tail for balance.
After the male departed, Colin turned on the outside lights as dusk fell. Although badgers live nearby, they wait until it is dark before crossing open ground. A hybrid wildcat sometimes passes through, but only about once a week.
We stayed until 10pm, but saw nothing more and returned to the car park after a very enjoyable and memorable evening. These were the first clear views I'd had of Pine Martens and it was fascinating to watch them from the comfort of the hide. The area is beautiful and peaceful; even if we'd seen nothing it was a refreshing change from the city. I hadn't visited Glen Tanar before and I look forward to exploring further.
Thank you very much for organising the event, and to Colin for looking after us. Thank you, too, Joan for driving me there and back in comfort!
Richard Woods
Woodward Wildflowers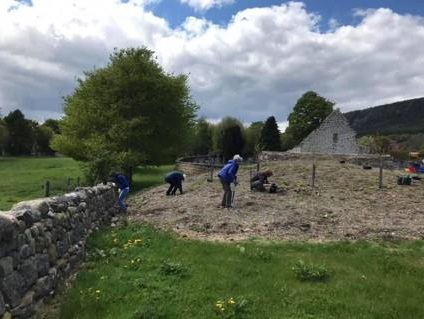 In May 2021 the Aberdeen and Aberdeenshire Scottish Wildlife Trust local group, working in partnership with Aberdeenshire Council, began working on a project to create a wildflower patch at Tullich Kirk on the outskirts of Ballater. A location chosen for its connections to the late Esther Woodward, a former Chair of Aberdeen and Aberdeenshire local group who helped purchase the nearby woodland – 'The Crannach' for the community some years before. Why a wildflower patch? Well, with many of us becoming concerned at the decline in wildlife and that our wild spaces are no longer supporting species they used to, we thought we could do something to help,even just a small patch can make a big difference.
650 wildflower plug plants, purchased with a donation from Esther's will, were selected by local wildflower expert John Malster of Curam Nurseries. John grows all his own wildflower plug plants from seed collected from reliable local sources and also tries to match the natural habitat of the plant with the recipient site. This gives the plant a better chance of survival and keeps the local wildflower stock as native as it can be. Of course it doesn't protect it from local wildlife but we'll get on to that later.
I remember my dad nurturing a wildflower patch when I was little – hopping through the long grass spotting wildflowers hidden amongst the grasses at different points in the summer. Harebells were my favourites and I still have some along with birdsfoot trefoil and dog violets in my old wildflower press. They just grew naturally – or so I remember. Creating the space at Tullich seems to have been much harder work – though I have to admit living in Aberdeen and being conscious of travelling back and forth over 40 miles each way, we have been very lucky to have had local help to do much of the hard graft.
The hard graft began at 11 am on the Friday morning, the sun was out and the wind blowing, the soil was very dry. We started by removing some of the larger docks -with quite impressive roots, that were already growing in the newly laid soil and got to work settling the plug plants in. With a team of 7 volunteers, and lots of guidance from John and his wife Kate, we finished the planting in approximately 3 hours. We were fairly impressed with our efforts and even managed to give the plants a good drink from the taps and watering cans in the kirk yard. Hard work over.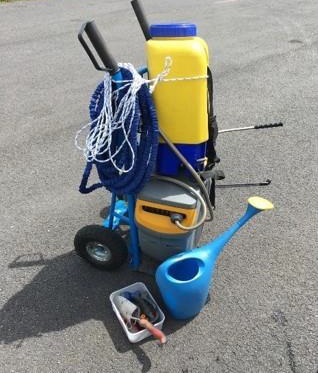 Really that was the easy bit. I mentioned the soil was dry. So was the weather over the next 4 weeks and our wee wildflowers had to cope with very little rain and a very hot sun. Our native wildflowers are resilient but only once established. We advertised for watering help and luckily local biodiversity expert Ewen Cameron came to the rescue, as did a few Ballater locals. Without their generous help over those first few weeks the young plants wouldn't have stood a chance. The tap and the wildflower patch were not right next to each other and, even with multiple watering cans, lots of trips back and forth were required. But over the dry period people popped in past and watered when they could. Meanwhile Ewen deployed the Patent Wildflower Planting Rescue Kit.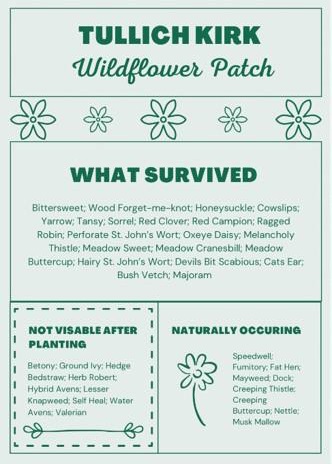 Unfortunately, it wasn't just hot weather that was threatening our plants – the local rabbit population nibbled the green tops off, and there may have been a few beady eyed corvids, or even geese, pulling the plants right out of the ground. They were hungry too – but if we wanted even some of the plants to survive we've were going to have to hold them off. Cue a rabbit proof fence installed with amazing efficiency by Ewen.
The fence did its job and during the later summer months our wildflower patch was bursting with life and busy with hoverflies, bees and butterflies. The real sounds and sights of summer! A survey to assess which of the wildflowers had made it through the harshest of conditions was undertaken and uncovered that, whilst the numbers of plants was greatly reduced, of the 31 species planted, only 9 weren't spotted this year.
It sounds really positive and from a wildlife point of view it was. Much of the kirk yard green space had been cut grass previously. Neat and tidy is the expected norm for kirk yards – but sadly it's not great for wildlife. We had created a space that was now a great food source and place for mating.
However, mayweed and fat hen were the dominant species in many parts of the patch – neither of which was intended. Fat hen hasn't a pretty colourful flower and can crowd out smaller, more delicate, plants. But I learned it can be useful in removing nutrients from the soil – great in the long term for the wildflowers, who prefer poor soil.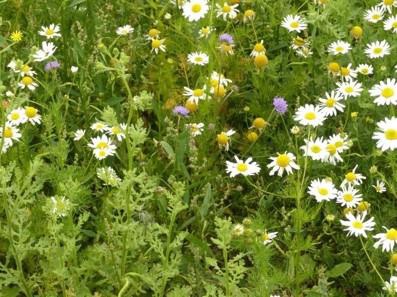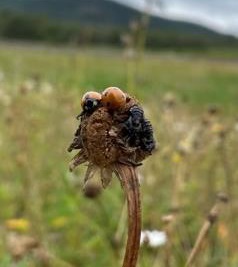 There were a few local comments that the patch felt untidy and didn't look quite as expected. As a group we talked about public expectations and how wildflower patches can be undervalued because they look untidy, even though the amount of life they can sustain is incredible. We admit there is still much work to be done to have a mix of native species with varied flowering times that both people and wildlife can fully enjoy.
Having removed a total of 22 sacks of fat hen in late summer we are looking forward to adding further plug plants in the spring and, of course, seeing what pops up spontaneously in the patch next year!
If you would like to get involved with helping in the wildflower patch at Tullich Kirk Yard– please get in touch with committee@swtaberdeen.org.uk.
Kirsten Dickson
The Future for Beaver in Scotland
The Eurasian Beaver, successfully re-introduced into many European countries, is now well and truly re-established in Scotland. This is welcomed by many environmentalists but worries some farmers and fisheries managers. For now it is still restricted in its range being found in the Knapdale, Argyll, where it was experimentally introduced, the Tay catchment, where it was apparently released by guerrilla beaver lovers, and recently it has migrated to the adjacent catchments of the Forth and, probably, the South Esk in Angus. While there are only a dozen animals in Knapdale there are now estimated to be between around 1000 on the Tay and its tributaries. A recent NatureScot survey showed that the number of beavers in Scotland has more than doubled in the last three years between 2017 and 2020 and the beavers were spotted in 251 territories including Tayside, Stirling, Forfar and Crianlarich. NatureScot believes that they are likely to expand into Loch Lomond in the near future.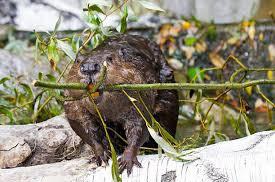 The presence of beaver in Scotland raises passionate arguments from both its supporters and its detractors. It is well known as an ecosystem engineer, changing the environment around it through dam-building, creating wetlands and providing a much more diverse habitat for many other species. It may well help to control flooding and improve water quality through the chains of ponds and wetlands they build in river floodplains. On the other hand, beavers do sometimes damage flood banks protecting agricultural land by burrowing into them and fell trees considered to be important for riverine landscapes. They may accelerate natural riverbank erosion in certain situations. They do not eat fish, despite some uneducated claims for this, and are entirely vegetarian, eating a variety of plants and, in winter, the inner bark of trees.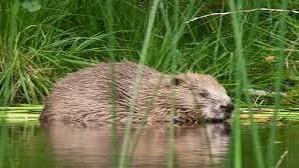 Beaver now have legal protection in Scotland. It is an offence to kill or trap the animals or destroy their dams and lodges. However, NatureScot will grant licences to manage beaver populations where damage is deemed unacceptable, for example, to agricultural flood defences. Such licenses include killing the animals and in 2020, while 31 were trapped and translocated to England, 117 beaver had been culled and there is strong suspicion that more have been killed or lodges destroyed through unlicensed activity. Not surprisingly, any culling is strongly opposed by environmental NGOs and beaver supporters who point out that translocation to new areas could be a better option and that there are a number of techniques for preventing beaver damage without culling them. Such techniques include tree guards, fencing and flood control devices.
So what's likely to be the future for beavers? The Scottish Government policy until recently was to allow the two current populations to expand their ranges naturally while still being illegal to deliberately introduce them to new river catchments. However, an agreement with the Scottish Green Party allows for new applications for translocations into areas where beaver are absent. This will require careful impact assessments and consultation with various interests. It is clear that approvals for such translocations will very much depend on what NatureScot is learning about beaver management and how to allay the fears of farmers and land managers. In any case, over time it is inevitable that beaver will expand into new areas though the rate will depend on connectedness of waterways and the nature of barriers between watersheds. A study in Sweden showed that beaver populations had moved up to 305km in 25 years, including across watersheds.
What's the scope for new beaver areas? A Scottish Natural Heritage survey showed that there are over 100,000 hectares of potential core beaver woodland in Scotland and some landowners and NGOs are very keen to have beavers in their areas. Where riverside woodlands are well established beaver populations would undoubtedly aid the generation of much more diverse habitats and wildlife through new wetlands, open areas and low thickets of coppiced trees while trapping sediment, adding woody debris to rivers and slowing flood flows. There are many areas of NE Scotland where these conditions are already present and beaver could be happily supported. It is likely though that measures to control beaver activity, in more fragile areas would be required for general acceptance.
Roger Owen
Seeing in the dark at Red Moss of Netherley
The SWT's Red Moss of Netherley reserve is at its most picturesque in summer. With the stunning Bog Asphodel in full bloom, Black Darter dragonflies dancing, often in abundance, across the reserve and swallows and martins amassing around areas of open water, one may be forgiven for thinking that the moss gives up its secrets easily. However, as 12 "night owls" found on a group event in August, some of the reserve's most cryptic residents take rather more effort to find.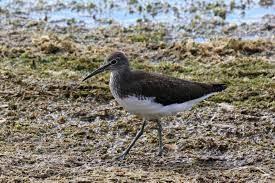 Our bat and moth evening, led by reserve convenors Rose Toney and Nick Littlewood, was an exercise in using tech to reveal what might otherwise go unseen. As dusk fell, we started with neither bats nor moths, but with birds. A thermal imaging device was able to show "hot-spots", including four Green Sandpipers that had called into the moss on migration. This was followed by considerable excitement as a Short-eared Owl flew past – just about visible in the last vestiges of light.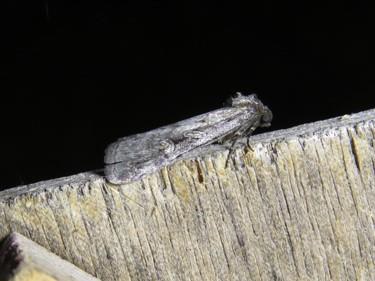 Unlike on a recce a couple of nights earlier, bat activity was slow to get going, so attention was then turned towards the moth traps. Two traps with mercury vapour bulbs were powered by a portable generator and cast light that proved irresistible to a wide range of species. Monitoring over the years has revealed well over 200 moth species on the reserve and undoubtedly many more await discovery. On this night, four of the thirty-seven species recorded were new for the reserve list including three distinctive "micro-moths", Catoptria falsella, Mother of Pearl and the amazing Brown China Mark whose caterpillars live underwater. The new "macro-moth" was the strangely named Anomalous, a moth principally of moors and bogs in northern Britain.
Eventually, the bats came out to feed and, thanks to bat detectors that convert the bats' ultrasonic echolocation calls into audible sound frequencies, we were able to detect the presence of both Common and Soprano Pipistrelle Bats. We also occasionally glimpsed their dark forms flash energetically across openings in the tree canopy. As we headed back towards the parked cars, a Natterer's Bat also made a brief appearance.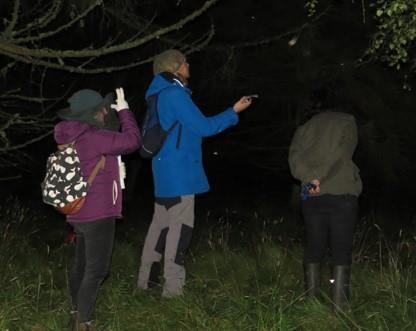 Use of high frequency audio recorders on the reserve during the summers of 2020 and 2021 has produced records of five of the seven bat species that are known to be present in the North East, helping elevate the reserve's mammal list to an impressive 24 species. Without the helping hands of tech such as bat detectors and camera traps, this list would still be in single figures.
Whilst heading out in the dark might not be to everyone's liking, our August outing showcased how, with the help of a few gadgets, a night on the reserve can be a real eye-opener.
Many thanks to North East Scotland Bat Group for loan of detectors and to Alan Knox for showing the thermal imager in action.
Rose Toney and Nick Littlewood.
Where Have All the Birds Gone?
I moved into No 2 Arbuthnott Court, Stonehaven in 2004. Right on the beach it gets the best of the summer and the worst of the winter. I put out no-mess seed in a 6 perch feeder, peanuts in a hanging feeder and water. No ground food because of rats, a recent arrival, and Herring Gulls, a pest. I don't have any garden birdwatch records for 2004 but I have my memories. My first written records are from 2013.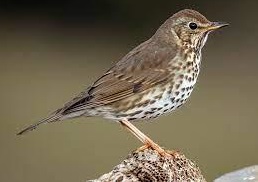 In 2004 I remember on the patio: Song Thrush, Blackbird, Greenfinch, Chaffinch, Robin, Dunnock, Sparrows and lots of Starlings and Collared Dove.
By 2013 the Thrushes, Greenfinches and the large numbers of Starlings are gone. One or two Chaffinches are still hanging on and the odd Blackbird and Collared Dove.
By 2021 just House Sparrows, winter Robin, Woodpigeon and Dunnock were observed with one or two, at most, Starlings.
I know Greenfinches suffered a disease but no recovery followed here. I have to go into the country now to see Song Thrush and there are some Chaffinches in nearby Dunnottar Woods. But here at my place, nothing! I am basically down to Sparrows, winter Robin, Dunnock while Wood Pigeon is new to the records, the only bird to have apparently increased over the 17 year period. All the rest, apart from Sparrows which remain numerous, decrease. Any theories to explain this decline in garden birds would be welcome!
Rodney Payne
Online talks for 2022
All talks are online via Zoom from 19.30 – 21.00. Please check our Facebook page (@AberdeenandAberdeenshireScottishWildlifeTrust) or website (www.swtaberdeen.org.uk) for booking announcements.
20 January 2022
Biodiversity for all: The work of the North East Scotland Biodiversity Partnership
NESBiP is a highly successful partnership of three local authorities, NatureScot, Forest and Land Scotland, SWT, RSPB, SEPA and many others who's aim is to protect and improve biodiversity in our area. This talk will describe the many brilliant projects that have improved our wildlife and involved communities.
Join us as Alex Stuart, Local Biodiversity Co-ordinator, describes the many different projects that, through the work of NESBiP have improved our wildlife and involved communities.
17 February 2022
East Grampian Coastal Partnership: Activities and Plans
The East Grampian Coastal Partnership promotes the sustainable development and conservation of the east coast from Kinnaird Head to the North Esk. It is highly successful at identifying and addressing the issues impacting on the coast and at organising many different coastal cleanup and marine projects with the participation of communities and businesses. It is sponsored by a wide variety of north east businesses and agencies. In this talk Ian Hay, Marine Scotland Project Manager, will describe all the activities and future plans of ECGP.
17 March 2022
Cairngorms Capercaillie Project
Carolyn Robertson, Project Manager shares the work of the Cairngorm Capercaillie Projects across the National Park and ways to get involved to help build a better future for capercaillie in the UK.
21 April 2022
AGM followed by: Red Moss of Netherley - ten years on the bog.
Rose Toney and Nick Littlewood have been monitoring an Aberdeenshire lowland raised bog, Red Moss of Netherley, through the changing seasons for over ten years. This talk will take a journey through their wildlife discoveries, from an ever-growing mammal and bird list to invertebrates, lost and found. Find out how they have managed to monitor the site from as far afield as Cambridgeshire and discover why everyone should spend some time on the bog...
Contacts for Members
Dr Roger Owen
(Chair)

Tel: 01569 762479
Email: rogjan.owen@gmail.com

David Elston
(Treasurer)

Tel: 01224 868153
Email: elstoncox@yahoo.co.uk

Kirsten Dickson
(Secretary)

Tel: 07885 720267
Email: kirst_dickson@hotmail.com

Alistair Beely
(Membership)

Email: alistair.beeley@btinternet.com

Stephen Watt
(Webpage Editor)

Email: webmaster@swtaberdeen.org.uk

Lynn Wood
(Newsletter Editor)

Email: rogjan.owen@gmail.com

Local SWT Staff
Rab Potter
(Reserves Manager NE)

Tel: 01828 634205
Email: rpotter@swt.org.uk