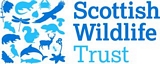 Aberdeen and Aberdeenshire Local Group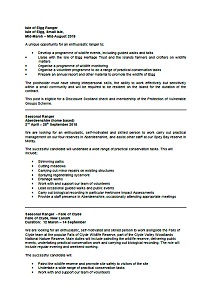 Job Adverts 2018
The Trust has a number of vacancies currently for those that are interested in getting into conservation work. A brief list is linked to on the left and further details are available upon request from the Trust's offices in Edinburgh.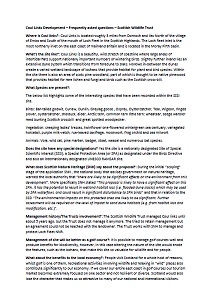 Coul Links
You may be aware that an area of land that the Trust previously managed as part of the Loch Fleet reserve is at risk from development. The area of land (to the South of Loch Fleet) is known as Coul Links, this internationally important dune system is a very special place indeed and in Jonny's words is a "truly exceptional stretch of wild, unspoilt coast".
This morning a planning application was lodged for development of 18 hole golf course, clubhouse and associated infrastructure on the Coul Links site. The site is protected with Special Site of Scientific Interest (UK designation), Special Protection Area (European designation) and Ramsar (International designation) being applied to the site. It is the Trusts view that a golf course is not compatible with the habitats found on site and we will be objecting.
Further details on thid can be found at
Coul Links
or a short FAQ is found to the left.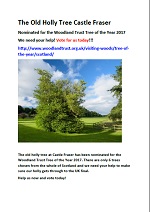 Tree of the Year Competition
The old holly tree at Castle Fraser has been nominated for the Woodland Trust Tree of the Year 2017. There are only 6 trees chosen from the whole of Scotland and we need your help to make sure our holly gets through to the UK final. Help us now and vote today!
http://www.woodlandtrust.org.uk/visiting-woods/tree-ofthe-year/scotland/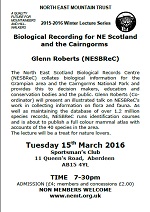 NEMT Talk on the work of the North East Scotland Biological Records Centre(NESBREC).
15th March 2016, 7.30pm
Sportsman's Club, 11 Queen's Road, Aberdeen, AB15 4YL
ADMISSION (£4; members and concessions £2.00), NON MEMBERS WELCOME.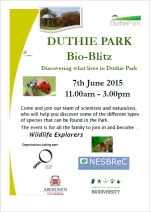 Duthie Park Bioblitz - Discovering what lives in Duthie Park
7th June 2015, 11.00am - 3.00pm
Come and join our team of scientists and naturalists, who will help you discover some of the different types of species that can be found in the Park.
The event is for all the family to join in and become - Wildlife Explorers!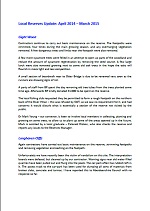 Reserves Report April 2015
An update on the four closest Reserves. Will be presented at the AGM as well.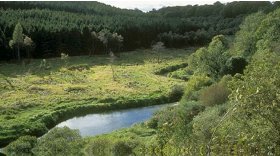 Practical Action
To help maintain the woodland at Gight Wood Nature Reserve, we need volunteers to collect, nurture and grow seeds of Gight Wood trees - full support and advice given.
Further details here.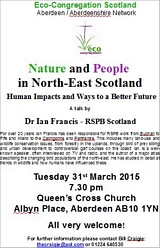 Talk:
Nature and People in North-East Scotland - Human Impacts and Ways to a Better Future.
A talk by Dr Ian Francis - RSPB Scotland
Talk takes place at 19:30 in Queen's Cross Church, Albyn Place, Aberdeen AB10 1YN.
Talk:
19th March 2015 - River Dee and its Wildlife.
Talk takes place at 19:30 in the Main Lecture Theatre, School of Biological and Environmental Science.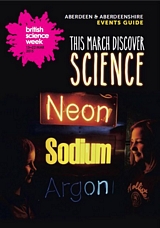 British Science Week, March 2015
Wide range of talks and activities, including the SWT talk listed above.
Programme available
Talk:
19th February 2015 - Introduction to Bee-keeping by Rosie Crighton.
Talk takes place at 19:30 in the Main Lecture Theatre, School of Biological and Environmental Science.
Event Support
We currently have a vacancy for someone to supply refreshments at the winter talks - the funds raised from this, along with sales of calendars and the monthly raffle, is the only financial support the Member's Centre has.
Committee Vacancy
We need willing volunteers to help organise the summer and winter programmes. If anyone is interested in assisting by serving on the committee, please contact the chair, Roger Owen in the first instance.

Created and maintained by SJW Enterprises.